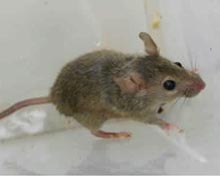 U.S. Center for Disease Control and Prevention
House Mouse
General Description
House mice are gray or brown rodents with relatively large ears and small eyes. An adult weighs about one-half of an ounce and is about 5 1/2 to 7 1/2 inches long, including the 3 to 4 inch tail. Although house mice usually feed on cereal grains, they will eat many kinds of food. They eat often, nibbling bits of food here and there. Mice have keen senses of taste, hearing, smell and touch. They are excellent climbers and can run up any rough vertical surface. They will run horizontally along wire cables or ropes and can jump 13 inches from the floor onto a flat surface. They can slip through a crack that a pencil will fit into.
In a single year, a female may have five to 10 litters of usually five or six young each. Young are born 19 to 21 days after mating, and they are mature in six to 10 weeks. The life span of a mouse is typically nine to 12 months.
General Control
Effective mouse control involves sanitation, mouse-proof construction and population reduction. The first two are useful as preventive measures. When a mouse infestation already exists, some form of population reduction is almost always necessary. Reduction techniques include trapping and baiting. Proper placement of traps and bait stations, and the distance between placements, are important considerations. For effective control, baits or traps must be located where mice are living. Use of tamperresistant bait stations helps prevent accidental poisoning of children, pets and other animals. Place bait stations next to walls with the openings close to the wall or in other places where mice are active.