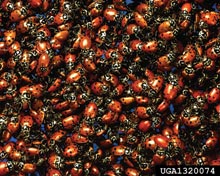 Scott Bauer, USDA Agricultural Research Service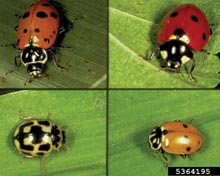 Frank Peairs, Colorado State University
Lady Beetles
General Description
The group of insects known as lady beetles, ladybird beetles or ladybugs, includes several species that arrive at structures in the fall, often in large numbers, intent on spending the winter. Lady beetles are beneficial because they consume large numbers of injurious plant pests including aphids, mealybugs and scale insects. There are several species; round or oval-shaped beetles, about one-fourth of an inch long, yellow to red in color with black spots.
One native species that often enters homes is the spotted lady beetle (Coleomegilla fuscilabris). It is an oval, pinkish-red beetle, usually with ten black spots. The convergent lady beetle (Hippodamia convergens) is commonly sold as a biological control agent for release in gardens, though often ineffective due to its habit of migrating from the release site. Adults are up to one-fourth of an inch long, yellow to orange in color with up to 13 black spots, and white lines that converge behind the head. The Asian lady beetle (Harmonia axyridis) was thought to be of such value as a predator that it was collected in Asia and introduced across the United States over many years to control pests in orchards and other crops. When disturbed or crushed, the beetles secrete a foul-smelling, orange-colored fluid from joints in their legs that can stain fabrics and other household items.
General Control
Lady beetles often will settle down for the winter beneath siding and shingles, in attics, soffits, porches, garages, wall voids, window and door frames. Owners of homes at risk should seal these harborages when practical. Properly timed, preventive treatment of exterior walls and surfaces with liquid residual pesticides may be of value, but is best done by pest management professionals. Once the beetles appear indoors, collect them using a vacuum cleaner.