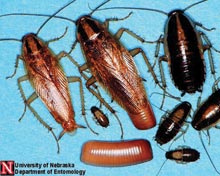 University of Nebraska-Lincoln Extension: http://lancaster.unl.edu/pest/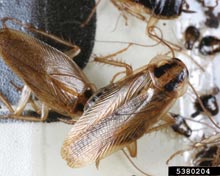 Gary Alpert, Harvard University
German Cockroach
General Description
The German cockroach adult is one-half of an inch long with two black stripes on the pronotum (shield-like portion behind the head). Young German cockroaches (nymphs) are brownish-black with a pale brown band down the middle of their back. The German cockroach is not only one of the foremost indoor pests but has probably accounted for the greatest number of control failures among structural pests. It is most successful at infesting human habitation and in withstanding incomplete pest control programs. German roaches are most active just before dawn and after dark and prefer to harbor in the smallest spaces in which they can fit. In schools, German roaches are often found in kitchens, student or gym lockers, and lounge areas. They are often introduced on food and packaging delivered to school kitchens, but also arrive from infested homes by hitchhiking in students' bags and coats.
General Control
Inspection to find the roach population is critical to roach control. Habitat and harborage reduction should include sealing areas where roaches harbor, removing favored materials such as cardboard, and sanitary practices to remove the roaches' food and water.
If pesticides are used, one should concentrate on monitoring the cockroach population and delivering pesticides into active harborage areas rather than baseboard spraying. Using gel baits and crack-andcrevice applications with pesticides including dust formulations are effective.